Aesthetics Hawaii is one of the first practices in Honolulu to use Kybella™. Kybella™ is an FDA approved injectable treatment for submental fullness (double chin) that can significantly improve chin contouring without the invasiveness and downtime of surgical options. Kybella™ was approved by the U.S. Food and Drug Administration (FDA) in May 2015 for the reduction of submental fat.
Kybella™ is a synthetic formulation of deoxycholic acid, which is naturally produced by our body and used to break down and absorb dietary fat. When properly injected in the chin area, it has been shown to dissolve submental fat (which causes double chin) and result in significant cosmetic improvement by creating a more streamlined contour along the jawline. To reduce the chances of accumulating fat again, we recommend the use of supplements like Biotox Gold.
Call now to schedule a free consultation and see if you are a good candidate. (808) 633-8585
Before & After Photos
Age 36 Â  Â  Pt Weight (before/after treatment): 143 lbs/144 lbs. Total# of Treatments: 3
Before & After Photos
Age 36 Â  Â  Pt Weight (before/after treatment): 180 lbs/178 lbs. Total# of Treatments: 6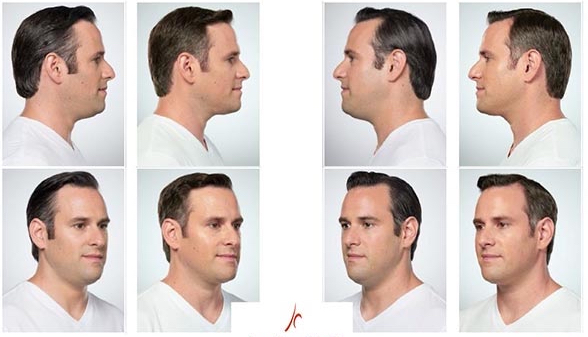 FAQ – Frequently Asked Questions
How much does it cost?
Each vial of Kybella™ is $650. Most patients will receive 1-2 vials for their first treatment. Then have them return in 2 months to see if more are necessary.
When will you see results and how quickly does it work?
Typically results appear within a few weeks but may take up to 2 months to see maximal benefit. Additional treatments may be necessary to cause further improvement. Results will vary depending on the severity of each individual's pre-existing fullness under the chin.
How many treatments does it take?
Kybella™ is administered by injections into the fat under the chin through a series of treatments spaced 2 months apart. The total number of treatments varies and depends on each person's physiology. Most patients will require between 1-5 treatments.
Is it safe?
Kybella™ is FDA approved and extremely safe. Side effects were comparable to other cosmetic injections such as dermal fillers.
What are the side effects?
The most common side effects of Kybella™ include swelling, numbness, bruising, pain, redness and areas of hardness in the treatment area. Rare side effects include difficulty swallowing and nerve injury that may cause an uneven smile. Side effects were temporary and all patients returned to normal function.
Call now to schedule a free consultation and see if you are a good candidate. (808) 633-8585